We all want to keep our kids safe. Terrifying to see your junior fall down during tight turns, right? This is where the electric bike child seat safety kicks in.
The most basic safety level for e-bike seats is the harness, front bar, and the child helmet. If you want the maximum safety for your kid, try out a child bike trailer or a rear seat with a 5-point harness and a helmet.
There are front child seat options as well, which will allow easy gripping if your toddler is about to fall down. However, when you engage the pedals, a front seat will bump your knee almost regularly.
Luckily, we will give you an idea on what seat type to choose, some pro tips to improve safety, and of-course your personal riding comfort. We have a lot to cover. Let's begin.
Can You Take a Child on An Electric Bike?
You can take a child on an electric bike by putting him/her on a child seat. For toddlers go for a rear seat as it can give you an instant grip if something goes wrong. Rear seats and trailers with a 5-point harness attachment are the safest for kids of any age.
What Are the Electric Bike Child Seat Safety Features and Precautions?
Even if you have the world's best electric bike, adding a child seat with safety is easier said than done. Some e-bike may have in-built clamp on seat post, others come pre-installed with a child seat.
In any case, you need to properly select the seat type, make it compatible, and also consider the child's age and weight.
Here is a detailed explanation the  electric bike child seat safety requirements:
Seat Selection According to A Child's Age and Height
A child's age and height is the first thing you need to consider as this will determine the shape and size of the attachment.
Child type
Age
Height
Prefered type of e-bike child seat
Safety Attachment
Babies to toddlers
Age 1-4
Up to 42" (106 cm)

Front seat
Front Trailers

5-point harness system with soft head resting station and a 3-position adjustable footrest.
Pre-schooler
Age 4-6
Up to 45.5″ (115.5 cm)

Rear/Front seat
Front/Rear Trailers

5-point harness and a 3-position adjustable footrest.
School-aged child
Age 6-12
Up to 61.7″ (156.7 cm)

Rear seat
Front and rear Trailers

Any regular harness will do
For Toddlers: 1-4 Years (best Is Front Seat)
For an infant or a toddler, you will need superior anti-slip straps. Toddlers don't really have the muscles to help them sit straight. A front mounted bike child seat or a front trailer is more preferable as you can constantly monitor your toddler in case of accidents like falling off.
They will also need a 5-point harness system, adjustable footrest and a soft head-resting station for your kid. Toddlers love to rest their head on it.
For Pre-Schoolers: Age 4-6 (best Is Rear Seat or Any Trailer)
A pre-school kid can sit up straight and can hold on the mounting bars during shakes and bumps. So, the rear seat is a better choice for them. Plus, a rear seat won't hit your knee even while you use the pedal assist mode.
For School-Aged Child: Age 6-12 (best Is Rear Seat or Any Trailer)
Unlike toddlers or pre-school children, a school-aged one is a bit more mature. Turns out, you can put him in almost any seat type. A kid trailer is the safest no doubt. But you need a harness and keep the kid locked.
Bike to Seat Compatibility
Not all seats are compatible with every e-bike in town. Suppose you have a step-thru ebike. Due to the lack of a front tube, attaching a child front seat won't be possible.
Then again, some e-bikes don't have a back seat setting, which is a real party pooper for a rear child seat. If you want a fixed trailer setting, get Front-loading cargo bikes.
You can try getting a child seat trailer and attach it with any e-bike you have. Go for other options if your e-bike has a child seat mounting setting.
5 Point Harness Attachment
A kid's shoulders and hips are the most rigid part of their bodies. A 5-point harness attaches to those parts, giving your kid vulnerability to road shocks. Tripping or falling off will hardly be a problem, even if you took a U-turn.
Child Comfort
In this case, put yourself in place of your kid. How would you feel? If the child seat on an e-bike is hard, your kid may feel discomfort on every ride.
Infant safety seat needs to be the most comfortable and should have a head protection setting. Just regular polypropylene with no cushion should be avoided until your kid is 6.
How Do You Carry a Child on An E-Bike Safely?
You will have a few options to carry your child on an e-bike. Either choose a front seat, a rear one, or best yet, a kid trailer seat. The attaching and using process will vary, depending on the type of seat you are using.
Let's see how to do it:
1. Front Seat
Pro tip for safety: For maximum safety, go slow and short distances. You don't want the wind chill affecting your kid, right? Additionally, use a 3-position adjustable footrest so that his feet can't reach the spinning wheel.
How to Safely Install a Front Child Seat on An Ebike:
Front seats are typically the best fit for toddlers or kids up to the age 5. As you need to engage the front pedals sometimes, a good option will be a smaller front seat version.
Let's see the steps of using a child seat on an e-bike: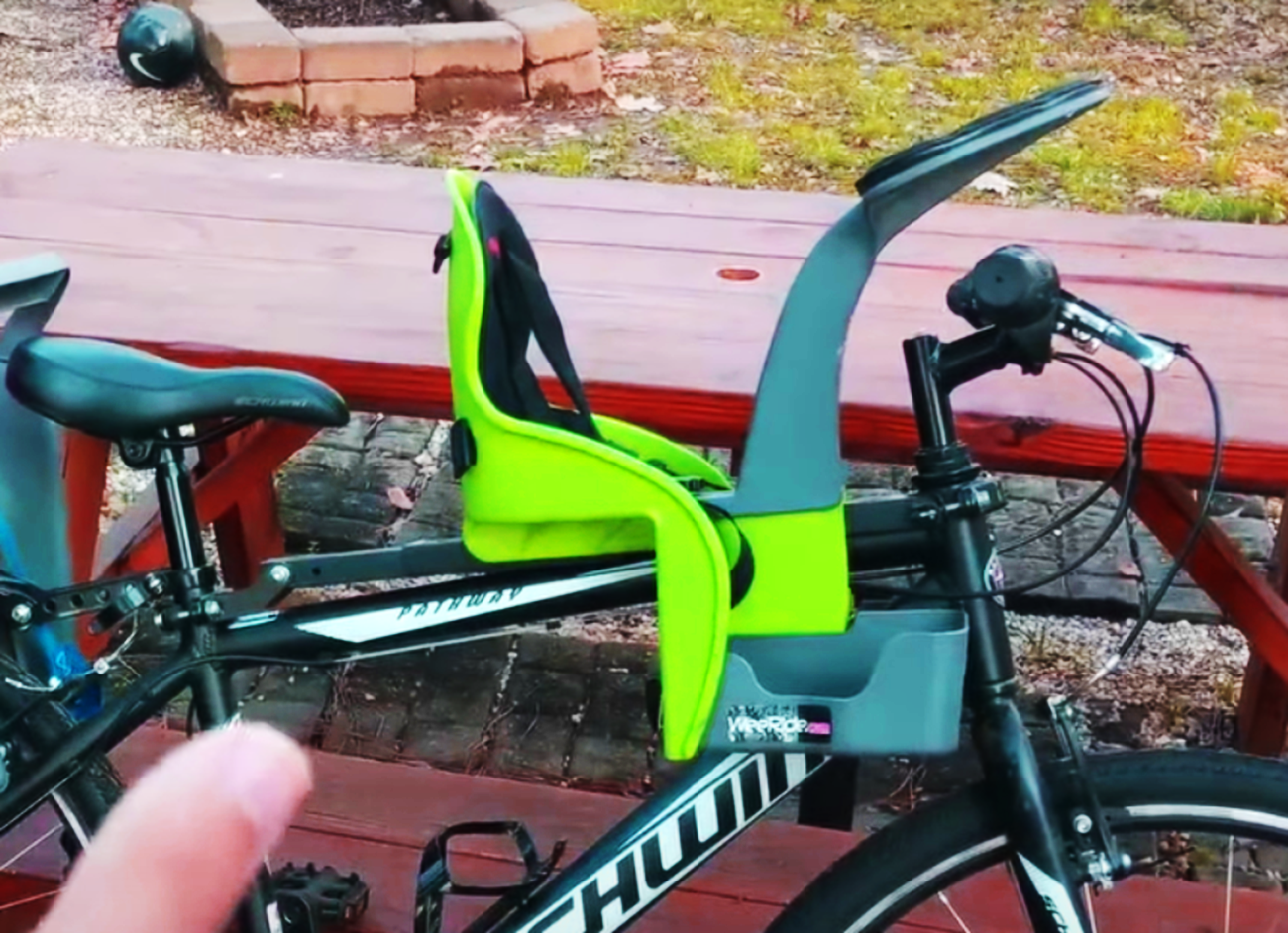 Get a front child seat of your choice. Something with a front head resting attachment will be a better option.
Make sure the seat is rigid enough for the road. Use screws to fix the front mounted seat in place.
Attach a foot resting station to the seat for better comfort and safety against the spinning wheel.
Now, fix the harness properly. Make your kid as comfortable as possible.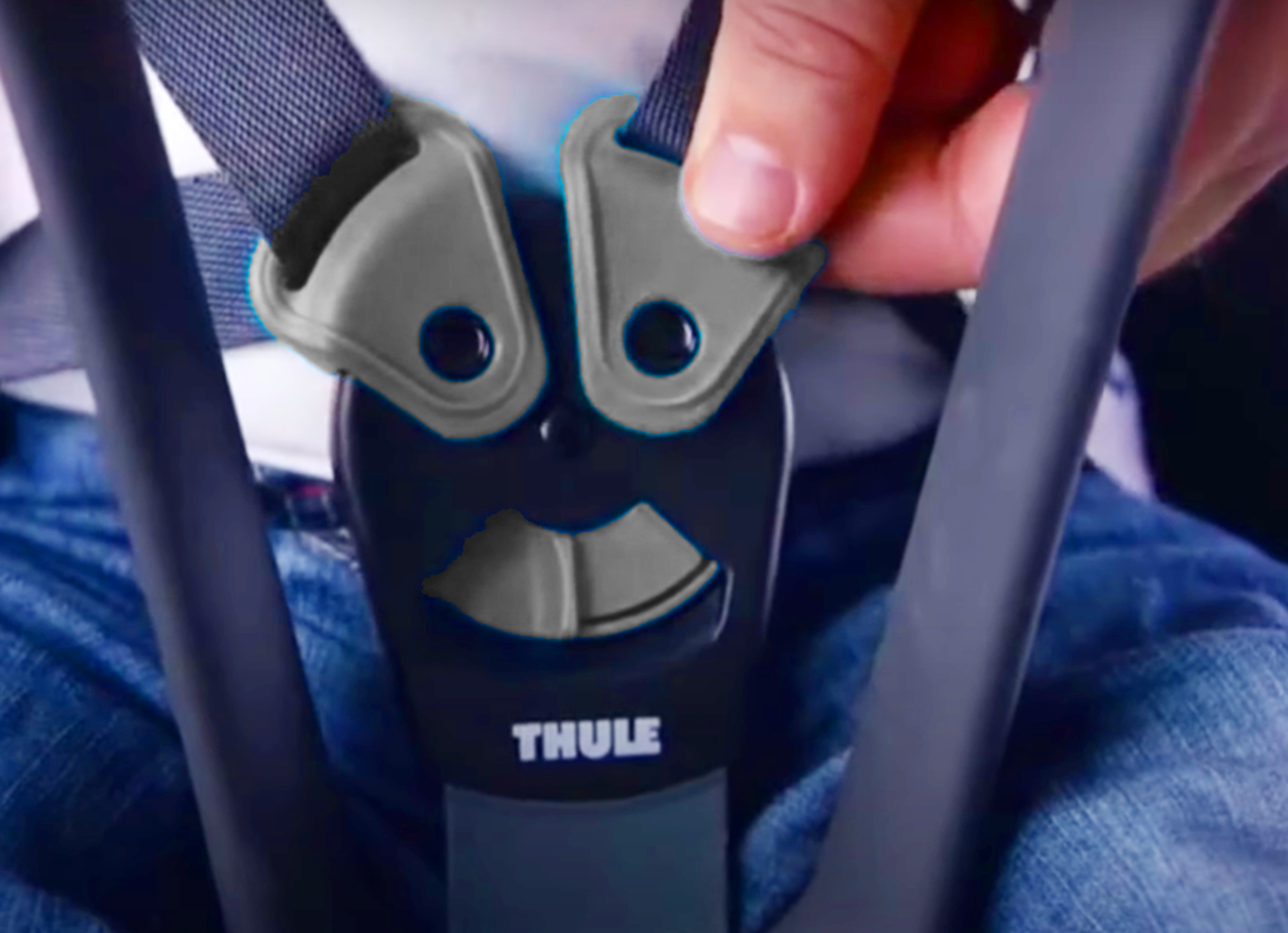 If the harness is too tight, get a newer one that fits your kid just perfectly. You can shorten a longer harness, but a smaller one won't be a good option.
2. Rear Seat
Pro tip for safety: Make sure your kid has enough space to put down his feet. A 3-position adjustable footrest or mud guard on top of the wheel needs to be added so that your kid doesn't hit the wheel with his legs.
How to safely install a rear child seat on an e-bike:
Mounting a rear seat is probably the easiest of them all. Most e-bikes (except full suspension mountain e-bike) have a back seat where you can mount a rear kid seat. Here is how you attach a rear seat to an e-bike: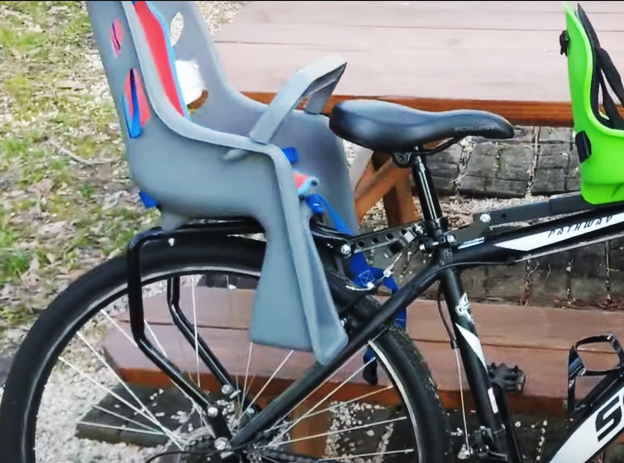 First install a rear seat if you don't have one already.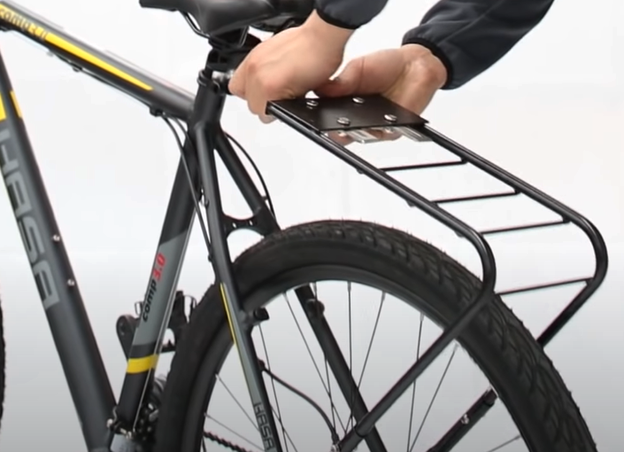 Fix the bottom part properly with tight screws.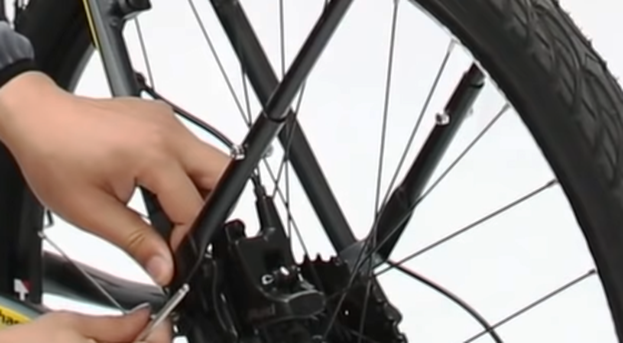 Afterwards, put the kid seat near the rear back seat.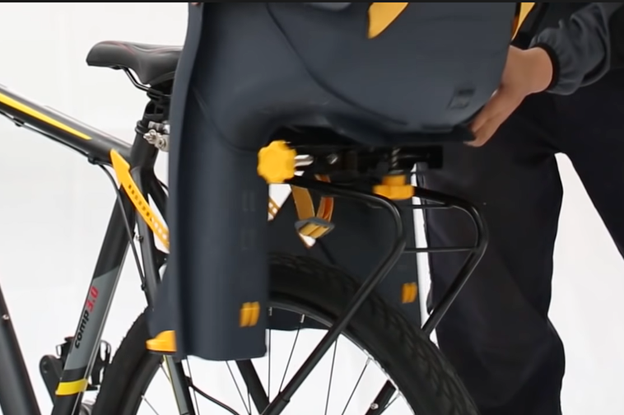 Use a screwdriver to fix the seat in place. Some rear seats have round rollers for easy fixing.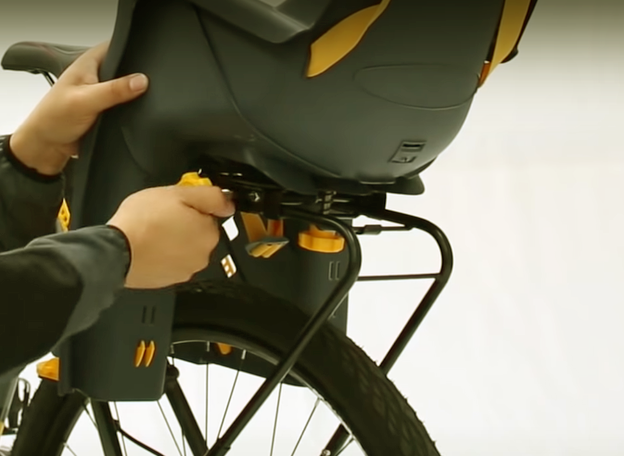 Now all you need to do is, put your kid on top and buckle up the five-pin adjustment.
3. Kid Trailers: The Best Option for Your Kid
Pro tip: It's hard to control a trailer at high speeds. We recommend you don't cross the 10-12 miles per hour range with a child trailer.
How to safely install a child trailer on an e-bike:
Using a kid trailer is the easiest of them all. Trailer seats come with a 5-point harness, comfortable seat, and sometimes as protective outer covering for wind and dust protection.
Let's see how we can attach a kid trailer to e-bike:
Get the best kid trailers for e-bikes you can find. Hurting your kid is the last thing we can imagine.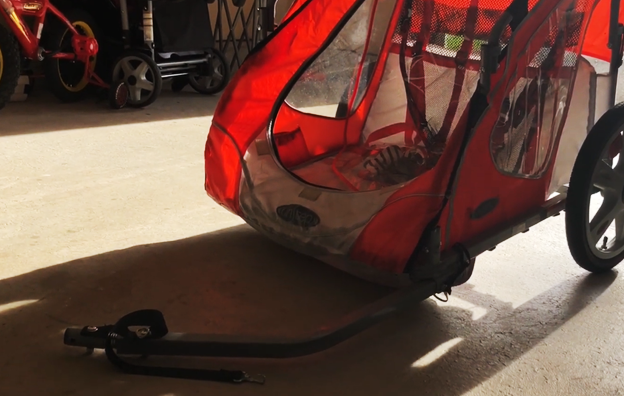 Every trailer, whether it be a kid trailer or a pet one comes with a coupler to attach the trailer.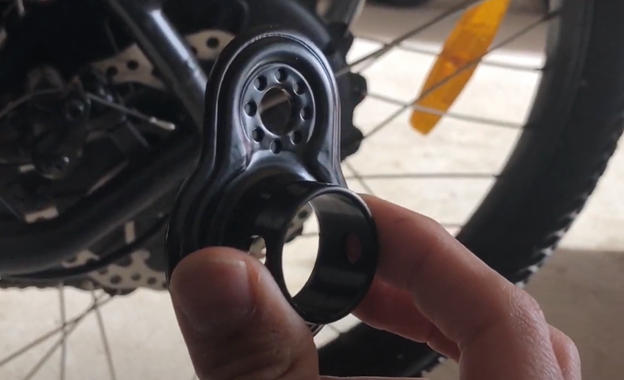 If the coupler size is too small, use a step drill bit to enlarge its size.
When the whole is big enough attach the coupler to the axle of the e-bike.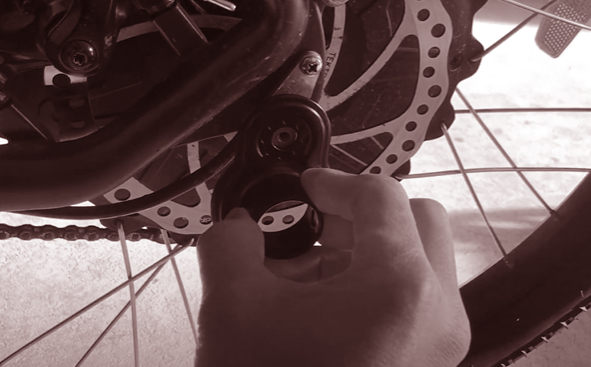 Fix the trailer handle with screws to the axel and coupler. Make sure the attachment is rigid enough.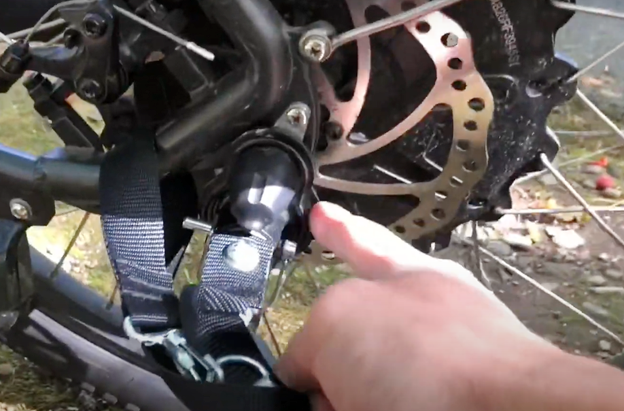 This is it. You just attached a kid trailer with an e-bike.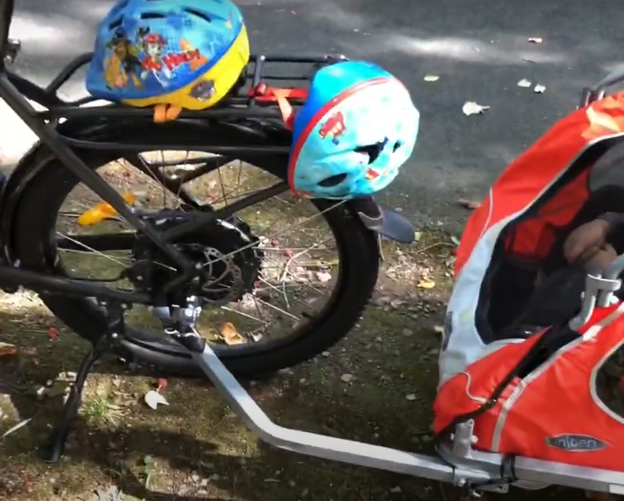 Frequently Asked Questions
We get asked tons of questions on e-bike child seat safety. These two are the most frequently asked. Here are the answers:
Can you pull a kid trailer on an eBike?
You can pull a kid trailer on an e-bike. Turns out, most 750 watt e-bikes offer child seat trailer attaching options. However, depending on the bike you need to tweak the coupler size. After you fix everything perfectly, you are ready to go.
Can you put a baby seat on an electric bike?
You can put a baby seat on an electric bike. But in general, e-bikes don't come with a baby seat installed.
What you can do is, get a comfortable baby seat and attach it on top of the front e-bike rod. Baby seats should be on the rear part, as you can't control the seat or catch your kid if he is to fall down.
End Note
Well folks, this is all for today. Hope now you know all the electric bike child seat safety features you need to take.
Rule of the thumb, drive slow and use a helmet every time you ride with your kid. Use a top-notch 5 point harness and 3-position adjustable footrest if you can.
If you have any questions don't feel the least shy to ask us. We are always there to help.